By Rob & Pauline Ackland
The 2019 South Australian rally for owners of Australian Off Road campers was held at Mt Ive Station from 9–14 May. Mt Ive Station is a family-owned sheep station situated 200 km west of Pt Augusta in the heart of the Gawler Ranges. For more information go to https://mtive.com.au.
The property has been involved in adventure-based tourism for many years. It has its own 4WD tracks showcasing some amazing manmade and natural features such as the rhyolite organ pipe rock formations. It also supports the annual Dry Lakes Racers Australia event on nearby Lake Gairdner, Australia's third largest salt lake, which is over 160 km long by 48 km wide with a layer of salt up to 1.2m thick. The lake is usually dry but because it had rained recently there was ankle deep water which made the sunset photos more exciting for the photographers in the group. Marketing and film crews also use this vast salt lake and the surrounding area to produce promotional material for a variety of products, anything from cosmetics to cars.
Centrally located for travellers from east or west, Mt Ive was the ideal meeting place for travelling AOR owners. Overall the weather was kind but the 2 mm or so of rain on 9 May was enough to ensure all cars and campers arriving that day were covered in mud. Some found a particularly slippery patch which resulted in a few momentary loss-of-traction events. The AOR village carpark was something to behold, being almost full of mud-coated cars and campers. The high winds also put paid to AOR HQ (purchased by one of our organising committee for the event). Despite being well lashed down, the plastic joints failed and we were not able to establish our trading table, amongst other things planned.
Flight Path, Mt Scott, Lake Gairdner, the Wombat Holes and Mt Ive tracks offered some excellent scenery and views of the surrounding area along with some interesting 4-wheel driving. The keen walkers summited Mt Ive and Mt Scott enjoying their meandering by making their own tracks.
The weather over the first day was rather windy and cold but that didn't stop most people from putting up their awnings, end and side panels for some extra protection and added comfort. It did keep us away from the fire where our resident wood collectors and choppers had placed a nice pile of wood sourced with the guidance and approval of the property owners. Thanks here to the forestry skills of Simon and his merry gang. Now wood gathering is normally followed by wood chopping and herein lies the story of the chainsaw challenge at Mt Ive Station. It started with the coughing and spluttering associated with coaxing a petrol-powered chainsaw into life, not with much success. This 'mating call' attracted, firstly, some battery powered Makita birds. After some shortening of log lengths this noise subsequently drew in the rare sharp toothed Stihl pigeon which, with its powerful presence, put the rest of its competitors into the shade. Refer photos and explanations below. I can assure you that no AOR owners were injured during this rare and colourful display.
Steve & Alec, Team REDARC, were kept busy making camper calls and running sessions for all owners. The ladies-only sessions were as popular and well attended as the blokes/partners ones. Excellent feedback was received from everyone and the house calls went a long way to identifying and helping resolve the issues some were experiencing. Alec in particular took the opportunity to learn more about how owners use their 12-volt systems and what they expect from them. Most important for an engineer involved in production development and design and, I suspect, not something you would get from a non-Australian based manufacturer.
Russell Evans, GM AOR, was present during 13 and 14 May taking the time to meet all attendees. He was particularly interested in getting feedback from owners on their ownership experiences and suggestions for product improvement. He also addressed us as a group on the future direction of AOR, product design, development and service centres.
The last day of the rally arrived sooner than all would have liked. The day was spent packing and preparing meals to be shared that evening. Our Shearers' Shared Platter saw some pretty amazing main and dessert meals being produced in campers and placed on the tables in the shearers' dining room. I missed out on Ian Baker's mushroom risotto, not a grain of rice was left, along with seeing but not tasting the individual cheesecakes or pavlova. Still, what I did get tucked into was excellent for quality and variety. A big 'well done' to all who planned, prepared and cooked for the evening.
Dinner was eaten at long tables we had set up to take advantage of the light from the recreation room and, while that light was OK, our resident sun-god, Super Simon, set up what could only be described as a smaller but no less bright version of our sun. I can see why these amazing lighting set ups are in high demand amongst mining and emergency workers to start with. It was certainly a night into day experience. Thanks again Super Si. Thanks also goes to AOR and REDARC for supporting the raffle with four very happy owners resulting from that generosity with Ian Baker delivering the major prize of a REDARC 10A Smartcharger to Nicholas and Leonie Murphy who had to leave early. Ian Greig and Hilary Morrow also kept their ears to the ground and came up with a dozen or so special recipients of bags of locally produced Fruchocs.
On 15 May a group of 13 campers, travelling in small groups, headed north to Kingoonya for dinner. Why? Well, simply because it was on the way to Coober Pedy and Alice Springs, destinations these people were all heading to. It's an interesting 235 km drive through ever-changing country and history following the western side of Lake Gairdner. Kingoonya (population 12 when they're all there) is a small and remote historic town that owes its origins to the Trans Australia Railway (TAR) line. The TAR is frequented by the famous Indian Pacific and Ghan trains as well as a growing rail freight industry characterised by the 2 km long super freighters hauling all sorts of goods across the country. These huge trains operate regularly on this track and you can feel their vibrations shaking the ground well before you hear the two or three locomotives hauling the carriages. A hello blast on the horn sets the scene as they rumble past.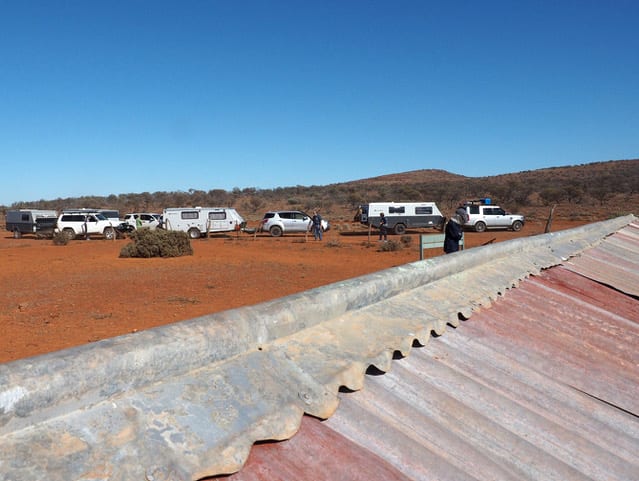 Dot cooked up a storm for dinner, ably assisted by two young waitresses, while Rod attended to the bar. Another farewell dinner well done and more farewells the next morning as everyone headed off in various directions either going home or on another adventure.
GALLERY