Follow AOR Ambassadors Al and Christine Stevenson journey discovering Australia.
Heading to the BRB and into the Simpson Desert
This is where the water got in the flood in Birdsville this year. They didn't have any rain, it was all the water from north.
Well we have made it to Birdsville. Full phone reception and all the comforts you need. We are here for the BRB. This year we are doing the volunteers, to help set up the Big Red Bash site.
Since we have been in Birdsville we met up with some other AOR owners. They had never been out to Big Red for the sunset. I told the it was one of the must do things . So we went out.
Left Eyre Creek and headed onto Birdsville. The road from Bedourie to Birdsville wasn't to bad it is a combination of gravel and sealed road. There are some interesting thing to look at on the way to Birdsville. Chris even found a shoe stall on the way to Birdsville.
Left the camp just before Boulia and started the drive to Birdsville. On the way to Bedourie we stopped at a lookout called Vaughan Johnson lookout. The view was spectacular, everything was so green. Arrived in Bedourie had lunch then off to Birdsville. On the way to Birdsville we crossed the Eyre Creek saw a good free camp and decided to spend the night. There is so much bird life out here because of the rain and flooding from up north.
Arrived in Birdsville!
Accommodation in Mt. Isa a bargain $15 per night. We stayed for 3 days, shopping and stocking up for the Simpson Desert after the BRB.
We left Mt. Isa yesterday and headed to Boulia.
Arrived Bengeacca creek which is about 1KM off the Diamantina Development Rd along the Donohue Hwy.
After leaving Karumba we headed to Mt. Isa. About 60KM east of Mt. Isa there is a ghost town called Mary Kathleen. It was an old Uranium mining town. In 1954 a significant Uranium deposit was found , it closed late 1982 and the town ship was dismantled. The only thing left are the concrete slabs from the car ports.
At the moment we are sitting at Notch Point, South of Mackay.. This here is one of our must stop in and stay camps. We have been here for 5 days. Today we start to head to the Lava Tubes and then onto Karumba for some Bara fishing for about 2 weeks, then off to Birdsville.
After leaving Robinvale we headed down to Swan Hill where we spent 3 days. We explored some different attractions and went on a river boat cruise.
At the Swan Hill Pioneers Settlement they also have a night show where there is a theme of the Murray River done by video onto water sheet.
We headed down to Walget, across to Bourke then down to Gundabrooka National Park where we had one night at Dry tank visitors area. The next day we went to the Aboriginal paintings.
About 60 km out of Lightning Ridge, you have the orange car door tour which is 3 pubs in the scrub. Out to the Garwin which is a golf course & has the club in the scrub. From there you had to Sheepyard Inn to another pub in an opal mining town and then up to Glengarry Hilton which is your third pub. We spent a  day and two nights at the club in the scrub it was quite an interesting tour and from here we left Peter and Caroline Gregory.
Lightning Ridge
Like Coober Pedy, Lightning Ridge is opal mining. There are numerous attractions in Lightning Ridge, artwork by John Murray, tours into underground opal mining and sunset which are really quite good. There is also a hot water spring where the water comes out of the ground at 46 degrees.
Hebel to Lightning Ridge
Arrived in Hebel, where the major attractions are the pie shop and the pub. I'll take you for a bit of a guided tour through the pub, then we headed to Lightning Ridge.
Nindigully & Thallon art silo
Our next stop is Nindigully, South of St George. We met up with Peter & Caroline Gregory, decided we'd stay at Nindigully and have lunch there. We bought a hamburger for $70, which we ended up sharing between the four of us. We had the other half of it for another meal a couple of days later. From there we headed down to Thallon, where we saw the first of the painted silos, we are then heading from Thallon down through to Hebel.
There is one other thing you must do when you're in Birdsville and that's to go out to big red and do the sunset at Big Red.  Also try and get your car up big red,  as you can see the Land Cruiser made it up.
We arrived back in Birdsville for the Birdsville races. It's another one of those things you have too cross off the bucket list. It was a bit of an eye opener for Peter and Claire George.  Took them up to the Fred  Brophy's fight tent. One of those things you have to do, if you are in Birdsville for the races.
After leaving Coongie Lakes we came across some old yards, which were full of wild flowers. We spent that night in Innamincka. The next day we left for Walkers Crossing. From Innamincka heading west to the Birdsville Track via Walkers Crossing is 240km and  then 100km to Birdsville. Just out of Innamincka is the grave of Wills beside Cooper Creek. We are still travelling with Peter and Claire George.
Innamincka to Coongie Lakes
We headed to Innamincka to spend a couple of days there. From Innamincka we then travelled 104km north to Coongie Lakes. If you haven't been, add it to your list of places to visit!
Lake Eyre, Sculpture, Strzelecki track & Montecollina bore
after leaving Coward Springs we travel down to the southern most point of Lake Eyre where there was no water. From there we went to sculptures on the Oodnadatta track which you can see the different sculptures 2 aeroplanes touching wings and other different things.
Know we head up the Strzelecki track to Montecollina  Bore. The bore is a  natural spring of hot water coming out of the ground & into  the large pond. We were there for 2 nights with Peter and Claire George. It was good time for Chris to do some washing. While we were there, on our last night we had around 20 camels come into the water hole opposite our campsite, it was dark. It was so dark we could not see them until we put a torch on them. When they first started drinking, what a horrible noise!
Oodnadatta Track, William Creek & Coward Springs
After leaving Peake ruins we headed to William Creek. Good pub to have lunch. After William Creek we headed down to Coward Springs, where there are some thermal springs there. It's a little Oasis out in the middle of know where. You can see Peter George cooking breakfast. A beautiful place to stop on the Oodnadatta  track.
Oodnadatta Track
Heading down the Oodnadatta track to a place called The Peak repeater station which was built 1870 & closed 1891 and there was also a copper mine and smelter.
Oodnadatta,  down to the Algebuckina Bridge & campsite and ruins. The the bridge, ruins & the camp site are on the old Ghan railway and is one of the larger of the suspended Bridge along the Oodnadatta track.
Coober Pedy & Breakaways
After leaving Willow Springs we headed to Quorn where we did the old train trip. From there we went to Wilmington to a bush camp called Stony Creek.
The food and the surroundings are perfect for the bush camp and should be I must call in for anyone in a with an Australian Off Road trailer.
Travelling with Ambassadors Gray and Deb Johns has been amazing.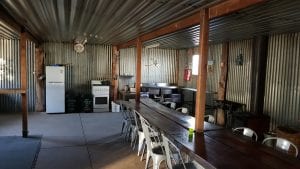 Chambers Gorge
After leaving the Gammon Ranges we headed down to Chambers Gorge.
There are Aboriginal drawings to be discovered along the gorgeous walks. A great place to drop in and see,  it is heading down towards Willow Springs.
Gammon Ranges  – Arkaroola
Day trip in the Arkaroola visiting an old smelter. Lots of fantastic off roading.

Heading into the Gammon Ranges, North Flinders.
Farina, south of Marree. An old ruins, town which they are restoring, there is a bakery there which is open for about four weeks of the year. The pies and the bread were absolutely beautiful.
Leaving Birdsville heading down to Mungerannie which is on the Birdsville Track down to Marree.
Pictures are of Mungerannie camp area & Marree yacht club .
Their first stop was Birdsville Big Red Bash.
Windoora, Betoota to Birdsville
Travelling from Windoora to Betoota and then on to Birdsville. The Betoota pub is reopening in August.
Chambers Gorge
Stay tuned to find out where they travel to next.
---
Interview with Al and Christine Stevenson
Full Name: Alan & Christine Stevenson
Town/State: Mt. Coolum Queensland.
What model do you /have you owned?
2015 Aurora Dual Axel Trailer & 2009 Quantum Super Camper
What is it that you love about AOR?
We have owned AOR Trailers since 2009. The trailers are made the same width as the car, so if the car can make it down the track the trailer will also make it down there. The trailer are all equipped to be off the grid for a good amount of time. The reliability of the product & the after sales service have been fantastic.
What makes you want to be an AOR Ambassador.
After being involved with AOR over the past 8 years & using their product in the outback, I feel that I know the product. Doing video work of the trailers, Handover Videos, helping in the show room & talking to people at the shows about the trailers, I feel that I have a lot of knowledge to pass on to old & new owners.
What is your No. 1 travel bugbear?
Knowing that you have to go back home sometime.
You've probably been off the grid may times, what is the most remote location you've visited?
The most remote location would be Nhulunbuy out on the Gove Peninsula. There is a magic spot called Baniyala on the inside of the Gulf of Carpentaria you must see.
Where did you go on your last trip?
Travelled around Tasmania for 2 months.
Which destination was a surprise to you?
Bungle Bungles & Gibb River Road.
When you arrive at your destination what's the first thing you do.
First thing we do, is to look at the best Position, as far as what you are going to look at first thing in the morning. Whatever you look at first thing in the morning will be good on the eyes for the rest of the day. Always try & get a level site & a good clear spot for the camp fire.
What is your favourite dish you like to cook when travelling.
Roast dinner in the weba.