After 17 months of exploring Eastern, Southern and Central Australia full time with our 3 kids, there are so many different types and locations of tracks that really stand out in our memories.
Here are just 3 of the most incredible, yet all so very different kinds of remote Australian tracks- there is something for everyone.
Norfolk Road, Tasmania's West Coast
Starting off the list with a leisurely drive for all levels of caravanners and travellers. The road trip from Granville Harbour to Temma via the Pieman River on Tasmania's remote West Coast was one of those drives that set the pace of a perfect scenic adventure. The drive day had many amazing highlights, but our favourite was Norfolk Road.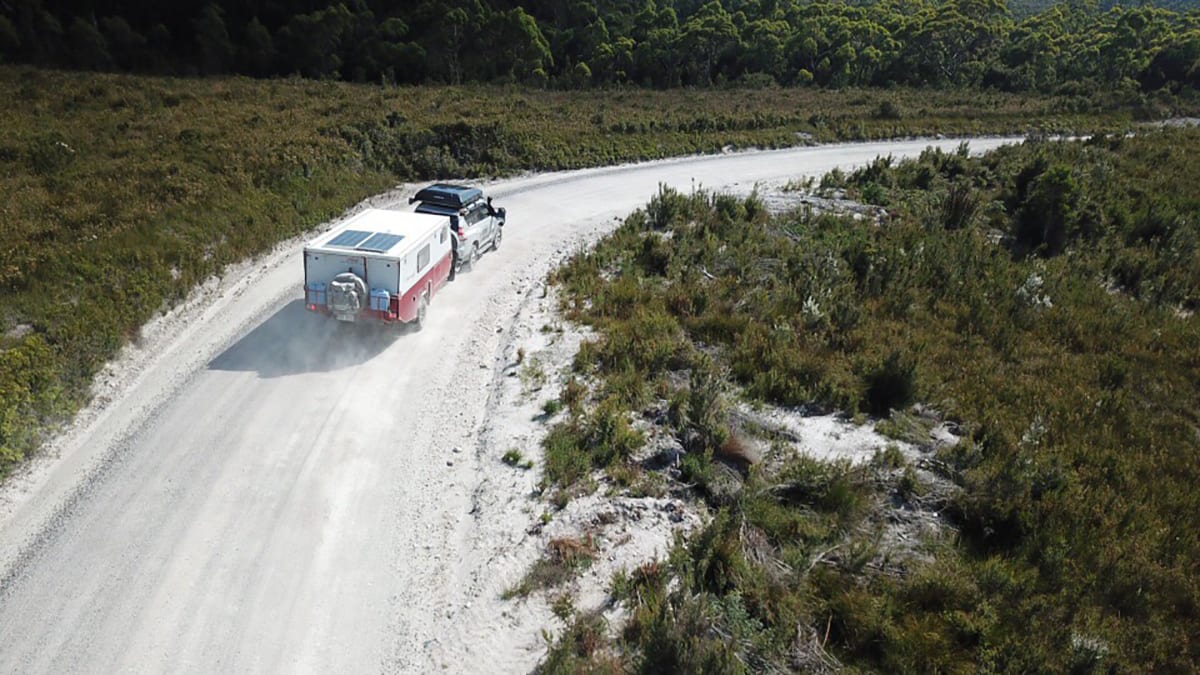 The remote West Coast is spoilt with white dirt roads snaking their way across the vibrant green Tasmanian landscapes which are truly breathtaking. Tasmania is known not only for its gorgeous green landscapes but also its iconic tight windy roads. I think what topped off this drive for us was the country style feel as we meandered our way up the coast across the Fatman Barge over the Pieman River and soon onto the Norfolk Road. The Fatman Barge is Tasmania's only cable driven vehicular barge, located in Corinna and a must we had on our to do list. After we ticked off the barge, we hit the white dirt of the Norfolk Road and felt like we were in heaven.
We both took turns driving with van in tow, taking our time and soaking in all the incredible views.
It's not Trekking Downunder's typical rough off-road track, but something about the west coast really captivated us and this was a track that stands out for all its unique remote beauty. Here is a little more of our Tasmanian West Coast adventures in an article we put together for AOR during our time in Tas.
2. Track, South Australia
Now this is quite the popular remote outback challenge amongst 4WD travellers. The Oodnadatta Track itself is a fantastic 617km between Marree and Marla and is a mixture of smooth lines, decent corrugations and numerous side-tracks…. some with notoriously intense reputations but all with incredible destinations.
Along with these incredible yet often challenging tracks, the Oodnadatta Track gives a great variety of beautiful points of interest; abandoned sidings, old railway bridges and township ruins, unique water sources in the middle of nowhere, Lake Eyre, and some pretty friendly small towns.
The Oodnadatta Track has so many incredible things to do and see, you can easily spend a week exploring and being completely taken aback on a daily basis.
The drive out to Halligan's Camp up the Lake Eyre North track was our highlight side-track. It was in part due to our success of completing the notoriously known track, but also the incredible changes of scenery throughout the entire drive to the mesmerising salt lake at the end.
We towed our Matrix behind us the entire Track and our only casualty was losing a D shackle, whose bolt had rattled lose and then the shackle fell off with the repeated corrugations. Not a bad effort, we did have a regular routine for checking the vehicle and van and learnt some pretty big outback road safety rules- check it out.
3. Simpson Desert
The top track of our adventures to date would have to be the Simpson Desert. Now again, this is another different style of track- this one we didn't have the comfort of our home on wheels, but the adventure was absolute magic. The recent rains had given the desert a most incredible green blanket of colour, something truly unique to the regular look of the desert.
A most amazing touch to a dream Ryan has had since he was 16- to cross the Simpson Desert, and not only did we cross it there and back we also did it solo.
The entire trip was just incredible. The adventure started with packing only the required essentials into the car and needing to last the 5 of us for 6-8 days. Then there was the excitement of tackling the 1100 sand dunes each way- some easy, others challenging, but always fun. Probably our biggest challenge was learning to survive with 5 people (or more like sharing with 3 kids) in a roof top tent and in zero temperatures.
These experiences all helped us to create some lasting memories, along with the endless tracks, the up and downs, the French Line, Poeppel Corner, WAA, Rig Road, K1 and chaos that was the QAA. I don't remember what I had imagined the Simpson would be like, but these tracks most certainly blew both of our expectations out of the park.
The challenges, the remoteness, the endless landscapes- it truly was a 4WD enthusiast's haven. The Simpson's appeal is not something easily explained…… by words anyways.
Crossing from Birdsville over to Dalhousie and Mt Dare and back, we covered every track we could possibly take and only got stuck the once.
As we said we have covered many tracks in our time on the road and these are just 3 of the best so far. Australia is such an incredibly big country, so go out, get lost and discover.